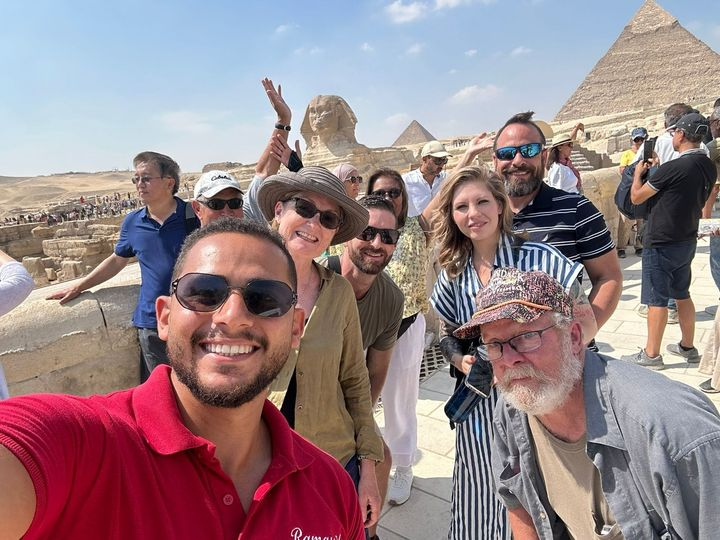 Maximize your Cairo layover with our Pyramids Tour from Cairo Airport. Explore the iconic Pyramids of Giza, the enigmatic Sphinx, and more in a convenient and unforgettable journey. Book your adventure today for a glimpse into the wonders of ancient Egypt!
Overview:
Our Pyramids Tour from Cairo Airport is designed for travelers with limited time who want to make the most of their layover in Cairo. This tour takes you to the world-famous Pyramids of Giza, the enigmatic Sphinx, and other nearby attractions, providing a condensed yet comprehensive experience of Egypt's ancient marvels. Led by expert guides, this adventure promises an unforgettable exploration of history and culture.
Highlights of the Tour:
Visit the Pyramids of Giza, including the Pyramid of Khufu.
Explore the enigmatic Sphinx, a symbol of ancient Egypt's mystique.
Discover the ancient city of Memphis, once the capital of Egypt.
Savor a delightful Egyptian lunch at a local restaurant.
Gain insights into the historical significance of these iconic sites.
Advantages:
Time-efficient: Explore the Pyramids and Sphinx during your layover.
Expert guides: Learn from knowledgeable guides with a passion for history.
Hassle-free logistics: We handle airport pickup, transportation, and entrance fees.
Instant confirmation: Book now and receive immediate confirmation.
Customization: Tailor the tour to your preferences or add optional extras.
Itinerary:
08:00 AM: Pickup from Cairo International Airport upon your arrival.
09:00 AM: Explore the Pyramids of Giza and Sphinx.
12:00 PM: Savor a delicious Egyptian lunch at a local restaurant.
01:30 PM: Visit the ancient city of Memphis and its historical artifacts.
03:30 PM: Return to Cairo International Airport for your onward flight.
Inclusions:
Airport pickup and drop-off
Entrance fees to the Pyramids of Giza, Sphinx, and Memphis
Professional English-speaking guide
Lunch at a local restaurant
Air-conditioned transportation
Bottled water
Exclusions:
International airfare
Visa fees (if applicable)
Personal expenses
Gratuities for the guide and driver
Pricing Information:
Adults: $99 per person
Children (2-12 years old): $79 per person
Infants (under 2 years old): Free
Tips and Advice for Travelers:
Dress comfortably and wear suitable footwear for walking.
Carry sunscreen, a hat, and sunglasses for sun protection.
Respect local customs and traditions when visiting historical sites.
Stay hydrated with provided bottled water during the tour.
Consider adding optional extras or extending the tour for a more in-depth experience.
Trip Notes:
This tour is available daily and offers flexibility for your Cairo layover.
Provide your flight details when booking for airport pickup arrangements.
The itinerary may be adjusted due to unforeseen circumstances or attraction closures.
FAQs:
Q: Can I customize the tour or add other attractions? A: Yes, we offer customizable tours and optional extras. Contact us for details.
Q: Is this tour suitable for children and the elderly? A: Yes, the tour is family-friendly and suitable for all ages.
Q: Is this tour available for layovers of various durations? A: Yes, the tour can be adapted to accommodate layovers of different lengths.