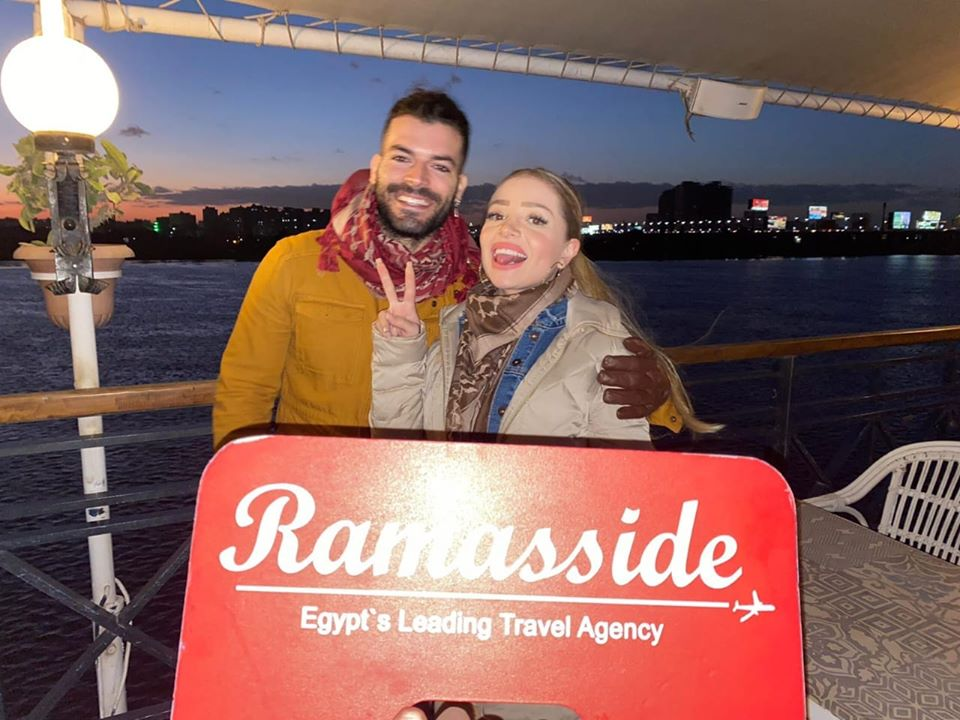 Experience a delightful culinary journey on the legendary Nile River with our Lunch Cruise. Sip on the flavors of Egypt while sailing past iconic landmarks, all while enjoying a sumptuous meal. Book now for an unforgettable afternoon of gourmet dining and breathtaking views.
Overview:
Indulge in a truly memorable dining experience as you embark on a Lunch Cruise along the majestic Nile River. This leisurely voyage combines the rich history of Egypt with a gourmet feast for your senses. Enjoy an exquisite meal, spectacular scenery, and the soothing ambiance of the Nile, making this cruise a highlight of your Egyptian adventure.
Highlights of the Cruise:
Sail along the legendary Nile River on a comfortable cruise boat.
Savor a delectable buffet lunch featuring a variety of Egyptian and international dishes.
Marvel at iconic landmarks such as the Cairo Tower, the Opera House, and the Qasr El Nil Bridge.
Capture stunning photos of the Cairo skyline and the riverbanks.
Be entertained by live music and traditional performances.
Enjoy the gentle breeze and soothing atmosphere of the Nile.
Advantages:
A unique and elegant dining experience in the heart of Cairo.
A diverse menu catering to different tastes and dietary preferences.
Beautiful panoramic views of Cairo's landmarks from the water.
Live entertainment to enhance your cruise experience.
Ideal for couples, families, and groups looking for a memorable day out.
Cruise Details:
Duration: Approximately 2 hours.
Departure Times: Daily departures around lunchtime.
Departure Point: Central Cairo location (specific details provided upon booking).
Menu:
A rich buffet with a variety of Egyptian and international dishes, including salads, appetizers, main courses, and desserts.
Vegetarian and vegan options available.
Soft drinks, tea, and coffee included.
Pricing Information:
Adults: $45 per person
Children (6-12 years old): $30 per child
Children under 6: Free
Tips and Advice for Travelers:
Arrive at the departure point at least 15 minutes before the scheduled departure time.
Dress comfortably, but consider bringing a light jacket or shawl as it can get breezy on the Nile.
Don't forget your camera to capture the picturesque views and entertainment.
Trip Notes:
The cruise operates year-round, but it's advisable to check availability and make reservations in advance.
Cruises are subject to weather and river conditions; in the rare event of cancellation, a full refund will be provided.
Vegetarian and vegan options are available; please inform us of any dietary restrictions at the time of booking.
FAQs:
Is there an age limit for passengers?

Passengers of all ages are welcome. Children under 6 years old are free of charge.

Is there a dress code for the cruise?

There is no strict dress code, but we recommend smart-casual attire.

Can I book a private cruise for a special occasion?

Yes, private cruises for special occasions can be arranged. Please inquire for details.

Are alcoholic beverages available on the cruise?

Alcoholic beverages are not included in the standard package, but they can be purchased onboard.

Is there live commentary during the cruise?

While there may not be live commentary, the cruise provides a leaflet with information about the landmarks you'll see.