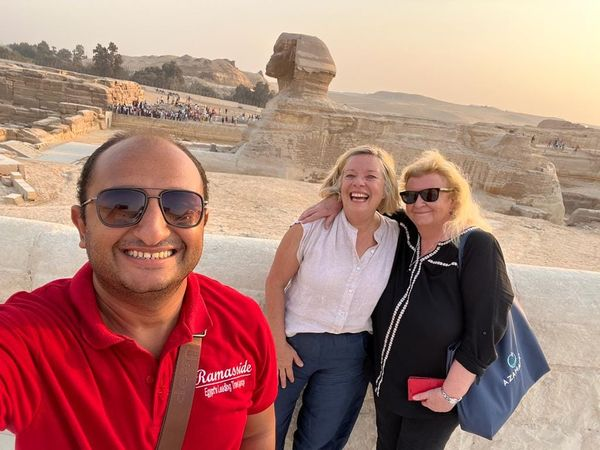 Discover the magic of Cairo with our Cairo Stopover Tour, a perfect way to make the most of your layover in Egypt's bustling capital. Immerse yourself in the rich history, culture, and beauty of this iconic city in just one day. Book now and receive instant confirmation!
Overview:
If you have a layover in Cairo and want to make the most of your time, our Cairo Stopover Tour is the perfect solution. This whirlwind adventure will take you through the city's most famous landmarks, allowing you to experience the essence of Egypt in just one day. From the awe-inspiring pyramids to the fascinating Egyptian Museum, you'll embark on a journey through time and culture. Don't miss this opportunity to explore the wonders of Cairo without the hassle of planning – leave it all to us!
Highlights of the Tour:
Visit the Giza Plateau and marvel at the Great Pyramids of Giza, including the Pyramid of Khufu.
Discover the enigmatic Sphinx and its fascinating history.
Explore the Egyptian Museum, home to an extensive collection of ancient artifacts and treasures, including Tutankhamun's treasures.
Stroll through the vibrant Khan El Khalili Bazaar, a bustling market offering a wide range of souvenirs and traditional crafts.
Enjoy a delicious Egyptian lunch at a local restaurant, savoring authentic cuisine.
Experience the charm of Cairo's bustling streets and unique atmosphere.
Advantages:
Hassle-free layover experience: We take care of all the logistics, from airport pickup to drop-off.
Expert guides: Our knowledgeable guides will provide you with insights into Egypt's history and culture.
Small group tours: Enjoy a personalized experience with a limited number of participants.
Instant confirmation: Book now and receive your confirmation instantly.
Customization: We offer flexible pickup times to suit your layover schedule.
All-inclusive: Our tour includes transportation, entrance fees, lunch, and more, so you can relax and enjoy your day.
Itinerary:
08:00 AM: Pickup from Cairo International Airport
09:00 AM: Visit the Giza Plateau and explore the Pyramids and Sphinx
12:00 PM: Lunch at a local restaurant
01:30 PM: Discover the Egyptian Museum
03:00 PM: Explore the Khan El Khalili Bazaar
05:00 PM: Return to Cairo International Airport for your onward flight
Inclusions:
Airport pickup and drop-off
Entrance fees to the Pyramids, Sphinx, and Egyptian Museum
Professional English-speaking guide
Lunch at a local restaurant
Air-conditioned transportation
Bottled water
Exclusions:
International airfare
Visa fees (if applicable)
Personal expenses
Gratuities for the guide and driver
Pricing Information:
Adults: $99 per person
Children (2-12 years old): $79 per person
Infants (under 2 years old): Free
Tips and Advice for Travelers:
Wear comfortable clothing and shoes, as there will be some walking involved.
Carry sunscreen, a hat, and sunglasses for sun protection.
Respect local customs and traditions when visiting religious sites.
Stay hydrated and drink bottled water provided during the tour.
Bring some local currency for shopping at the bazaar.
Trip Notes:
This tour operates daily and is available for layovers of at least 8 hours.
Please provide your flight details when booking for airport pickup arrangements.
The tour may be subject to changes due to unforeseen circumstances or closures of attractions.
FAQs:
Q: Can I book this tour for a longer layover? A: Yes, we can customize the tour duration to accommodate longer layovers. Contact us for details.
Q: Is a visa required for this tour? A: Depending on your nationality and layover duration, you may need a visa. Check with Egyptian authorities or your airline for visa requirements.
Q: Is this tour suitable for children? A: Yes, this tour is family-friendly and suitable for children of all ages.